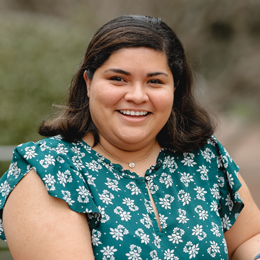 Kenia Flores

, First Vice-President

Email: kflores@keniaflores.com

Kenia Flores serves as 1st Vice President of the National Association of Blind Students. She calls the wonderful state of North Carolina home. Kenia recently graduated from Furman University where she majored in Politics and International Affairs. Kenia plans to go to law school in the near future; however, she is currently a student at the Louisiana Center for the Blind where she is pursuing blindness training. Kenia is committed to achieving equality, opportunity, and security for our nation's blind students, and she is looking forward to the work we will accomplish in the year to come. Let's go build the National Federation of the Blind!