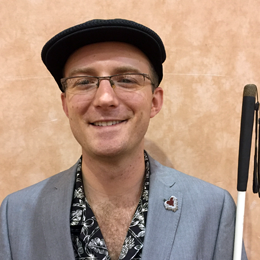 Justin Salisbury

, Second Vice-President

Email: president@alumni.ecu.edu

Justin works as Coordinator of Educational Programs at Associated Services for the Blind, Inc., in Philadelphia, Pennsylvania. He is currently preparing for a doctoral program in education in pursuit of his dream of teaching at the university level. He has worked as a cane travel instructor, a legislative aide to a state senator, an economic research fellow, and other education-related positions. He holds a Master of Arts in Counseling and Guidance with a concentration in Rehabilitation Teaching for the Blind from Louisiana Tech University, as well as Bachelor of Arts degrees in Mathematics and Economics from East Carolina University. He devotes much time to advocating for social justice through policy and practice, and he contributes articles to the Braille Monitor, Future Reflections, and the Journal of Blindness Innovation and Research. His research focuses on documenting best practices for the education, rehabilitation, and empowerment of blind people.