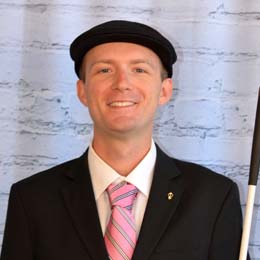 Justin Salisbury

, Second Vice-President

Email: president@alumni.ecu.edu

Justin has served in many leadership positions in the NFB and is excited to continue with NABS leadership this term. The wisdom he has accumulated throughout his life comes from a variety of people and places, and Justin is excited to return to his home state of Vermont to pursue a doctoral degree in the field of Educational Leadership and Policy Studies. The outdoors have a special place in Justin's heart, so he loves spending time fishing, kayaking, and hiking. Luckily, Justin has had the opportunity to live in almost a dozen states so far, each of which contributes uniquely to his identity, so he has been able to participate in some of his favorite hobbies in many new and exciting places.